"We just saw her small head but if the ripples were bigger, I think we probably wouldn't have noticed her at all."
Working on an isolated oil rig in the middle of the ocean would likely cause many people to start losing their mind at some point. And when workers on an oil rig 135 miles offshore in the Gulf of Thailand recently noticed a dog paddling toward them, they surely couldn't believe their eyes.But this brown Aspin was no illusion. According to the
Daily Mail
, workers first noticed the pup as its head bobbed in and out of the water, then rapidly focused on getting it aboard the rig as it came near."We found her trying to swim towards our rig, which is about 135 miles from the shore," said Vitisak. "Thankfully the sea was quite still because the wind was calm. We just saw her small head but if the ripples were bigger, I think we probably wouldn't have noticed her at all."
While nobody quite yet understands how this impressive pooch — named Boonrod, or Survivor, by the workers — managed to swim so far into the endless ocean, there are essentially two viable theories thus far: she either jumped off a ship nearby or has swimming stamina that is nothing short of shocking.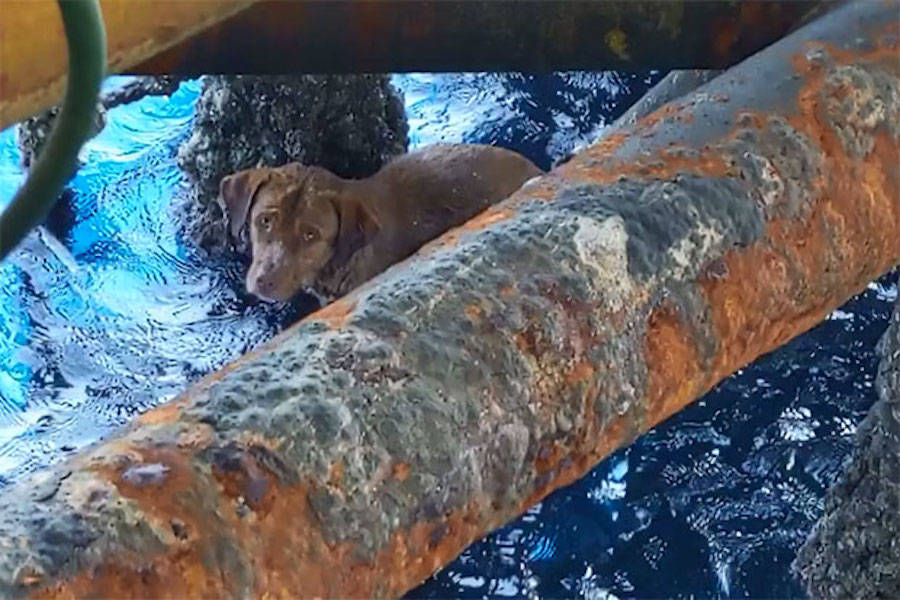 According to
The Bangkok Post
, the most likely reason for the dog's dangerous adventure was that she fell from a local fishing boat. Presumably, nobody noticed she fell overboard, which led to her seemingly endless paddling.
"When we first took her onboard she was depressed and tired from being the water for a long time," said Vitisak. "She had lost her body water. When we gave her water and minerals her symptoms improved. She started sitting up and walking normally."
As it stands, the resourceful pup is under the care of animal charity Watchdog Thailand and getting a comforting checkup after enduring such an ordeal. Thankfully, everything seems to be in order thus far.
"The boat arrived at 10 a.m. and the dog was in good spirits," the charity said. "We took her to the vets to be checked and she was found to be healthy. Everybody who played a part in co-coordinating the rescue has done a brilliant job."In the end, this courageous young seafarer has certainly earned the name Survivor. Hopefully, she not only gets to keep it — but can find a home with the man who saved her.