A new era of space exploration is upon us. And in the latest series of Cosmos, Neil deGrasse Tyson has a roadmap to help us get there. And it starts with changing how we talk about space.
In the first 60 seconds of the
new season of television show Cosmos
,
which airs Monday evenings on National Geographic,
we glimpse what the next millennium may bring. A group of people hold hands as they flock to a new world. On this new Earth, a futuristic city built within the confines of a glass bubble reveals a landscape of green grass and frolicking children.
But even as humanity moves forward towards human exploration of Mars, this future still remains very much within the realms of uncertainty.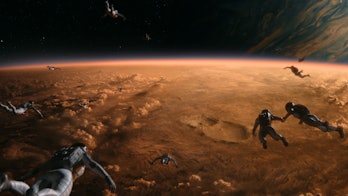 If we ever hope to make it a reality, first we need to change how we talk about space and science at large. That's show host and astrophysicist
Neil deGrasse Tyson's
mission statement.
People need to talk about the science "the same way everyone talks about what's the president doing, what's Beyoncé doing," deGrasse Tyson tells Inverse. "I would love for that day to occur."
"When that day occurs, that would mean that science, and issues that science literacy will inform, have become normalized into everyday discourse," he says.
"If you can mainstream science, that's a world that I'm not even necessary in," he adds.
A NEW HOPE
The focus on the future is a major shift from Cosmos' first two seasons, which take the audience back in time — around 13.5 billion years ago, to when the universe began.
In an interview with Inverse, deGrasse Tyson explains the choice behind the third season's subtitle, 'Possible Worlds.'
"There's an implication that we're exploring the hope of the future," deGrasse Tyson says.
"We are exploring what power we might have over shaping the future we might want to live in, and that often requires knowledge and insight, and science and technology," he says, before adding, "and the wisdom to apply it in ways that can best serve those ambitions."
His words are prescient. Since the first exoplanet was discovered in 1992, missions like NASA's
Kepler
and
TESS
have been on the hunt for more bizarre, alien worlds, with more than 4,000 identified so far. And as
more exoplanets
are discovered, astronomers are starting to narrow the search for
potentially habitable worlds
outside of our own Solar System, although any alien life may be quite different to anything that we have ever known.