Max Hidalgo, founder of Yawa, received the Young Champions of the Earth award

The United Nations Environment Program (UNEP) recognized seven scientists, engineers, businessmen and activists from around the world as Young Champions of the Earth 2020. For Latin America and the Caribbean, the winner was the Peruvian Max Hidalgo Quinto ( 30 years), founder of Yawa, a project that seeks to generate drinking water through sustainable technology.
This undertaking consists of building portable wind turbines
capable of collecting up to 300 liters of water a day from atmospheric humidity and mist
.
Technology can help communities affected by droughts and changes in rainfall patterns.
This innovative proposal
won first place in the contest An idea to change history
, promoted by History Channel in 2017.
That time,
Max Hidalgo
,
declared to the
Andean
Agency
that
Peru is a country of inventors
, a cradle of inventors and that there is a lot of potential that should be exploited.
"There are many cultures in our country that had technological advances appreciated to this day and we, like them, also carry out our experience through the observation of nature," said Max Hidalgo Quinto, leader of
Yawa.
In addition, the Peruvian inventor added that
his project has a practical and easy-to-assemble design
, whose water treatment is carried out on-site with the help of purifying filters.
It does not use electrical energy or batteries for its operation.
Last year, the
biologist from San Marcos Hidalgo
also won the first General Prize for Industrial Designs in the National Contest of Inventions and Industrial Designs, organized by Indecopi, in which he presented a wind power generator that imitates the appearance of a flower, the which can be implemented in parks, bus stops, homes to make possible the use of free electricity.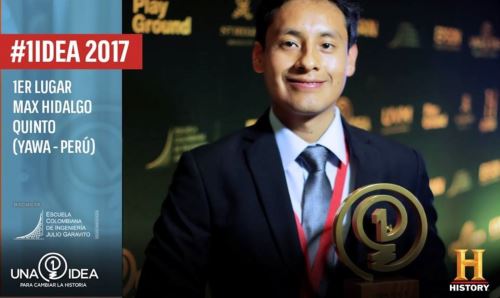 With this new recognition, Max Hidalgo will receive funding and assistance to promote his environmental projects.
Peruvian highlighted by the UN
The Young Champions of the Earth are agents of change showing how innovative ideas, combined with ambitious actions, can help solve some of the most pressing environmental problems, for example, through solutions to turn plastic waste into building materials. , produce water from atmospheric humidity or motivate fishing boats to remove tons of plastic from the ocean.
"Across the world, young people are leading the call for immediate and relevant solutions to the triple global crisis of climate change, biodiversity loss and pollution.
We must listen to them, "said UNEP Executive Director Inger Andersen.
"As we enter a decisive decade in which we work to reduce emissions and protect and restore ecosystems, UNEP's Young Champions demonstrate that we can all contribute, wherever we are and with whatever we have at hand.
Every act by nature counts and we need all of humanity to share that global responsibility, "added Andersen.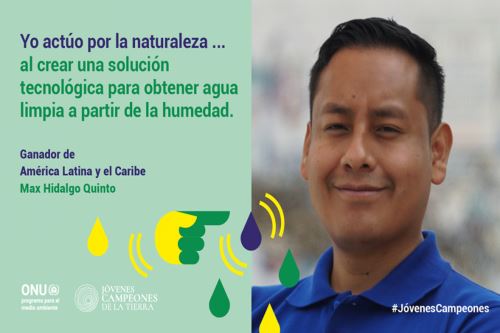 The award winners were selected by a global jury of experts after a competitive public nomination period.
The other winners of the Young Champions of the Earth 2020 award are:
Africa: Nzambi Matee (Kenya, 28),
Materials Engineer and Director of
Gjenge Makers
, a company that produces low-cost, sustainable building materials made from recycled plastic waste and sand.
North America: Niria Alicia Garcia
(United States, 28 years old), along with the indigenous activist community coordinating the annual Run4Salmon event, is using virtual reality to bring the journey of Chinook salmon to life along the most large California.
Their goal is to raise awareness about this threatened species, its invaluable ecosystem and the people it supports.
Asia and the Pacific: Xiaoyuan Ren
(China, 29) runs MyH2O, a data platform that tests groundwater quality in 1,000 rural villages in China and records the data in an app so residents know where to find clean water.
MyH2O also educates communities about sources of pollution and connects towns with drinking water companies.
Asia and the Pacific: Vidyut Mohan
(India, 29 years old) co-founded Takachar, a company that makes portable and affordable equipment to convert crop waste into fuels, fertilizers and activated carbon, allowing farmers to earn additional income and avoid burning in the open.
Europe: Lefteris Arapakis
(Greece, 26 years old) founded Enaleia, a team that trains and empowers fishing communities to collect plastic waste in the sea, a measure that contributes to the recovery of the ecosystem and fish populations.
Enaleia is also testing to convert recycled plastic into products like socks and swimwear.
West Asia: Fatemah Alzelzela
(Kuwait, 24 years old) started Eco Star, a non-profit recycling initiative that receives waste from homes, schools and businesses, and in return delivers trees and plants for reforestation.
Since its launch in early 2019, Eco Star has recycled more than 130 tons of metal, paper and plastic.
This youth award is announced after UNEP announced on December 10 the six winners of
the Champions of the Earth 2020
award, the highest UN environmental award, given to environmental leaders whose actions are having a transformative impact on the world. planet.
By promoting the work that entrepreneurs do on the environmental front, the Young Champions of the Earth award
aims to inspire and motivate the new generation to act for nature.
Check out more news about
science, technology and innovation
at the Andean Agency.