Also known as the pirarucu or paiche fish, the arapaima is a massive air-breathing fish native to the Amazon Basin in South America.f you've played Nintendo's Animal Crossing: New Horizons video game, you'll have likely met an impressively large fish with red-and-black coloring called the arapaima. While animals featured in the game are based on real living creatures, the massive size of the arapaima makes it almost unreal.
The arapaima, or pirarucu fish, is a giant fish that has existed for 23 million years. Not only is it one of the oldest living species in the world, but it's also one of the largest freshwater fish.
Here's everything you need to know about this ancient monster fish.
Arapaima Gigas Are Living Fossils
The arapaima has been on Earth for at least 23 million years, which is why the gigantic fish species has been dubbed the "dinosaur fish" — even though these aquatic creatures didn't co-exist with dinosaurs. Until 2013, Arapaima gigas was believed to be the only species of this ancient fish, but several other species have since been discovered.The arapaima has an antediluvian face and an enormous scaled body which can reach gargantuan sizes for a freshwater fish. The largest arapaima on record weighed over 440 pounds and measured 15 feet long, but the average fish typically grows up to 200 pounds and is 10 feet in length.
Not only are they among the oldest living freshwater fish in the world, but they are also one of the largest known to humankind. Their native habitat is the Amazon River, which runs through Brazil and Peru, and the Essequibo River that cuts through Guyana.
To the people of Peru, the arapaima is known as the paiche fish while in Brazil it is called the pirarucu fish, a word derived from the native language of the Indigenous Tupi people. For centuries, the arapaima has been an important source of protein to the Indigenous tribes who hunt it for food.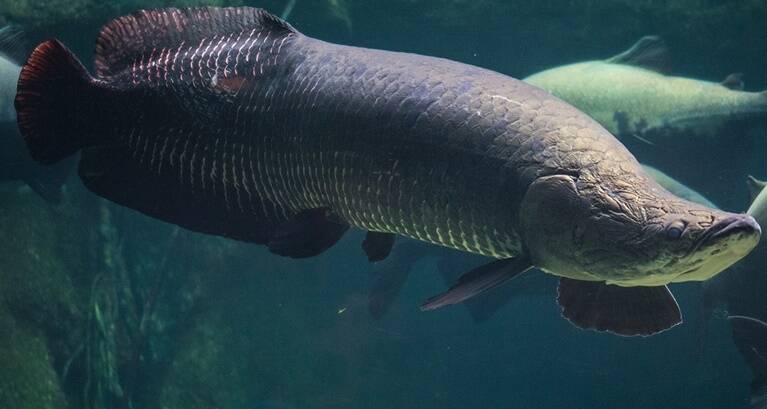 The arapaima's tough scales give it a natural body armor strong enough to withstand attacks from a shoal of piranhas in a feeding frenzy.
In addition to the arapaima and the piranha, more than 3,000 freshwater fish species can be found in the Amazon River and many more are suspected to remain undiscovered.With its indomitable size, the arapaima was the top predator of the Amazon waterways for a long time — that is, until humans arrived on the South American continent. The arapaima's need to surface for air makes it vulnerable to spearing, a weakness that has caused the species to be knocked from its top spot in the food chain.
A Fish That Breathes Air