"Gobekli changes everything." And it's not an exaggeration: when Gobekli Tepe was uncovered in 1994, it changed how we understand the rise of human civilizations.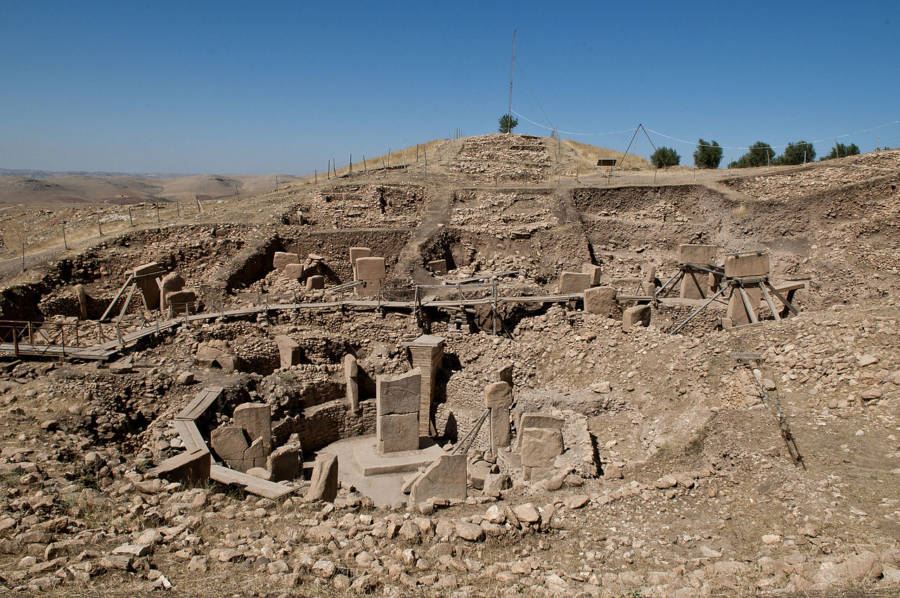 "Gobekli changes everything," says Ian Hodder, an anthropologist at Stanford University.
It's not an exaggeration. When Gobekli Tepe was uncovered in 1994, it changed everything we thought we knew about human history. Gobekli Tepe is a massive, ancient temple found in Turkey, built out of pillars organized into great stone rings. The pillars are decorated with intricate sculptures of lions, scorpions, and vultures, twisting around their sides, but they're more than just beautiful works of art. They're the foundations to a structure, holding upheaving blocks that, some of which weight more than 10 tons.
The artwork and engineering is incredible. That anyone could have lifted up 10-ton stones and placed them atop a foundation strong enough to hold them in place is an incredible feat in any time.
But what makes Gobekli Tepe so unbelievable is that it was built in 10th millennia BC – more than 11,500 years ago – and is actually the oldest temple in the world.
Just How Long Ago Was 9,500 BC?
Let's put that in perspective. Stonehenge was built in 3000 BC, and the oldest signs of human writing were created in Sumer in 3,300 BC. That means that Gobekli Tepe isn't just older than written language. More time passed from the construction of Gobekli Tepe to the invention of the written word than from Sumer to today.Even agriculture didn't exist yet – or, at least, certainly not in that area. There are, admittedly, some small signs of people growing crops before 9,500 BC, but it's doubtful that there were any full-fledged communities with farms.
The people who built Gobekli Tepe were what we'd call cavemen. They were hunters and gatherers working with tools made out of stone. And they managed to build something that should have been impossible.
Klaus Schmidt's Discovery Of Gobekli Tepe
The archaeologists who first found Gobekli Tepe in the 1960s didn't think it was anything more than a medieval graveyard. They had found a hill with broken slabs of limestone and didn't bother looking further, sure there'd be nothing more than a few bones laid to rest a couple of centuries before.
It wasn't until 1994 that the truth came out. Klaus Schmidt, a German archaeologist, visited the site and realized immediately that there was something massive hidden underneath that hill. "Within a minute of first seeing it, I knew I had two choices," Schmidt would later say: "go away and tell nobody, or spend the rest of my life working here."He decided to stay, and he's been working on the site ever since. It was worth it. Radiocarbon dating has confirmed that this temple really was built 11,500 years ago, making it easily one of the most significant archaeological discoveries in recent history.
A Stone Age Temple